All in One
Android device, Powerful computer, Arduino-compatible, ADK 2012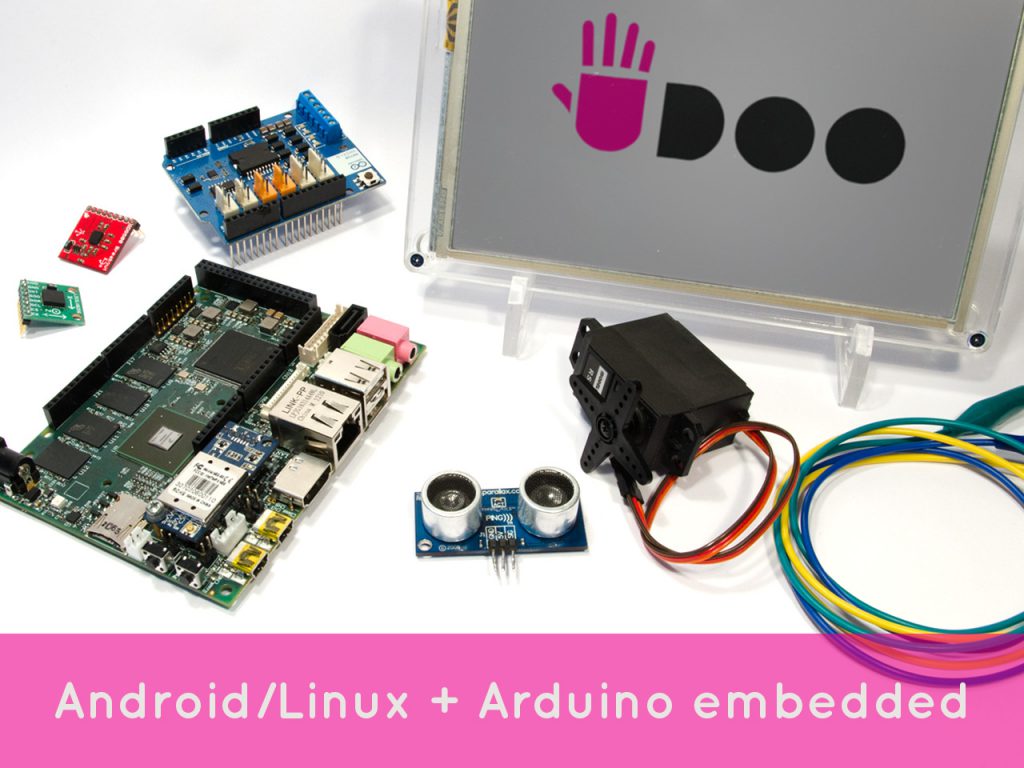 The most powerful and small developing board
UDOO is a multi development platform solution for Android, Linux, Arduino™ and Google ADK 2012. The board is designed to provide a flexible environment that allows to explore the new frontiers of the Internet of Things. UDOO allows you to switch between Linux and Android in a few seconds, simply by replacing the Micro SD card and rebooting the system.
At this link you can also find a more technical and exhaustive document, the UDOO's block diagram.

Running Linux
UDOO is a stand alone computer itself and since is based on the Freescale i.MX 6 CPU, it runs an optimized version of Linux Ubuntu for ARM architecture, called Linaro (11.10 at the moment). Linaro environment has everything you need for programming, for example you can use the Arduino IDE to build & upload your sketches to the Arduino-compatible embedded board, without additional/external cable connections.

Running Android
Android 4.3 Jelly Bean runs smootly on UDOO giving you all the features of an Android device (further Android releases will be available at the time of distribution). Apps interface with Arduino-compatible embedded board through Accessory Development Kit (ADK) connection for building accessories and smart devices based on Android.

Arduino™
UDOO is compatible with all the sketches, tutorials and resources available on the Arduino community as well as all the shields, sensors and actuators for Arduino DUE available on the market.
Warning: UDOO I/O pins are 3.3V only compliant. Providing shields with higher voltage, like 5V, could damage the board. Use only shields Arduino DUE compatible (3.3V).

Quad Core Computer and powerful dedicated ARM for the GPIO
Power and flexibility in your hands
Power and flexibility for any kind of projects
UDOO is a very powerful board based on dual or quad core ARM cortex-A9 CPU with great performance both on Android and Linux OS, and a dedicated ARM processor for the GPIO.
These are the main specifications:

Freescale i.MX 6 ARM Cortex-A9 CPU Dual/Quad core 1GHz

Integrated graphics, each processor provides 3 separated accelerators for 2D, OpenGL® ES2.0 3D and OpenVG™

Atmel SAM3X8E ARM Cortex-M3 CPU (same as Arduino Due)

RAM DDR3 1GB

76 fully available GPIO

Arduino-compatible R3 1.0 pinout

HDMI and LVDS + Touch (I2C signals)

Ethernet RJ45 (10/100/1000 MBit)

WiFi Module

Mini USB and Mini USB OTG

USB type A (x2) and USB connector (requires a specific wire)

Analog Audio and Mic

SATA (Only Quad-Core version)

Camera connection

Micro SD (boot device)

Power Supply 12V and External Battery connector
Processors' Communication
Here you can find the possible connections between the two processors, explained and illustrated in an easy and intelligible way.

Size
Very small sized board 4.33 inch x 3.35 inch (11cm x 8.5cm)

i.MX6/SAM3X8E
Double processor ARM i.MX6 CPU Quad/Dual core 1GHz + ARM SAM3X8E Atmel

Gigabit Ethernet
Fast ethernet technology: Gigabit Ethernet at 1.000 Mbit/s

Android developer board with ADK
Develop Apps connected with the physical world
UDOO for Android
UDOO runs Android 4.3 including all the features of an Android device. At the time of distribution other Android releases will be available.

ADK 2012 enabled
UDOO can act simultaneously as an Android host device and its connected ADK.

Many accessories and sensors
With Arduino-compatible Embedded you have the possibility to use the Accessory Development Kit (ADK) 2012 and connect digital and analog sensors and actuators to Android.