Programming Arduino Due from External PC
Requirements
If you wish to program the Arduino Due-compatible side of UDOO DUAL/QUAD from your Pc, Mac or Linux computer, just follow these easy steps to get started. First of all, check that these requirements are met:
A working SD Card with UDOO kernel running should be present on UDOO DUAL/QUAD.
J18 jumper should be unplugged. This will allow the communication between your computer and the programming port of the SAM3X.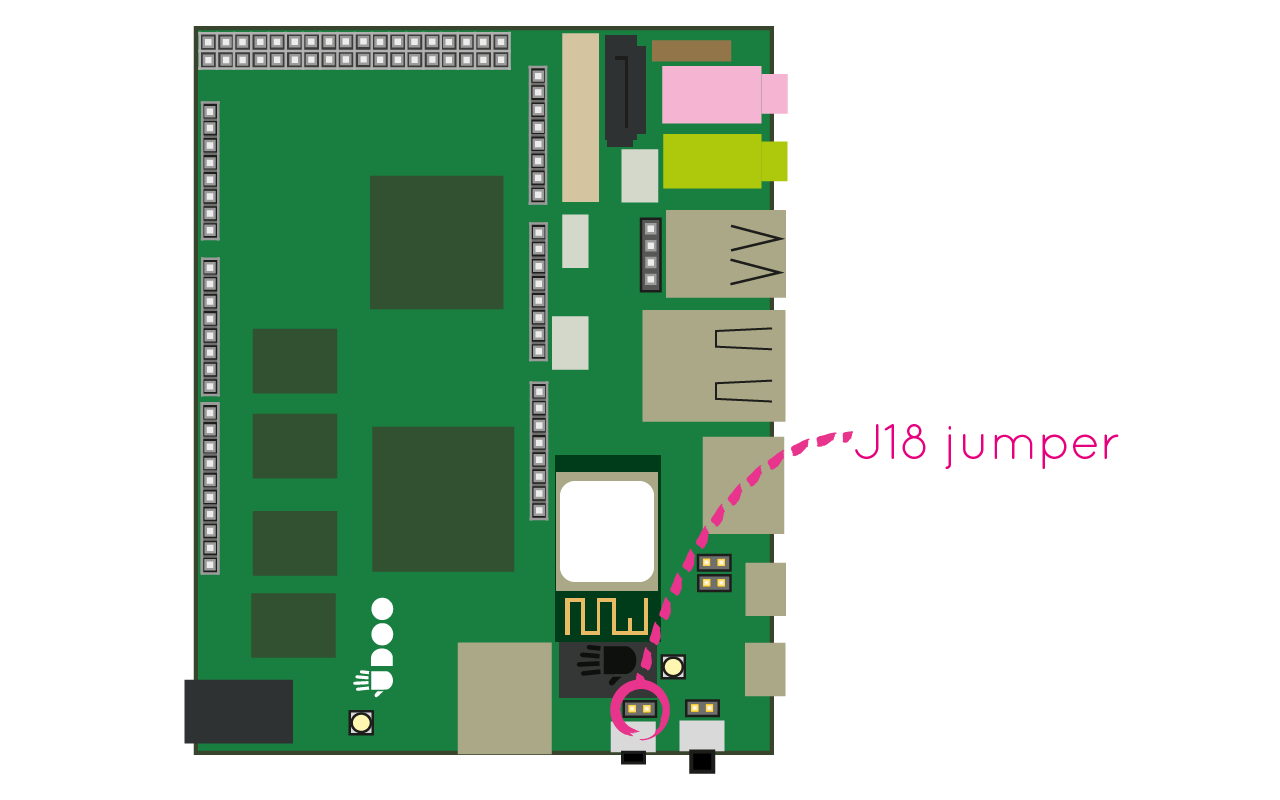 The micro-USB cable should be plugged in the CN6 micro-USB port.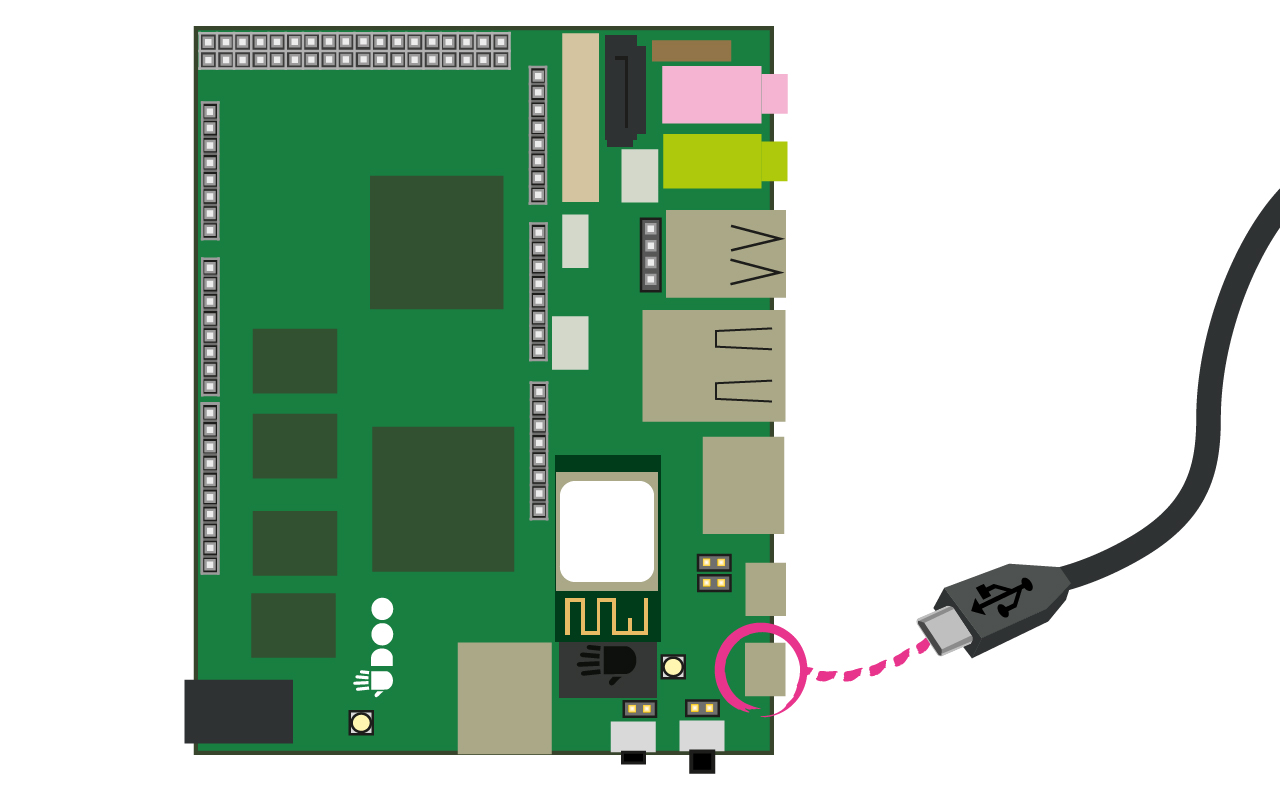 If all the requirements above are met, you're ready to start. What we will basically do is configure the standard Arduino-IDE in order to make it communicate to the Sam3x of UDOO DUAL/QUAD, which is the Arduino-compatible micro-controller.
Install and configure the Arduino IDE
From your computer go to the Arduino website and downlaod the last Arduino IDE version (currently 1.6.9): Arduino IDE 1.6.9

Select the OS you have in your computer and download the IDE then install it

Open the IDE, go to File -> Preferences and add this link to Additional Boards Manager URLs and then click OK:

https://udooboard.github.io/arduino-board-package/package_udoo_index.json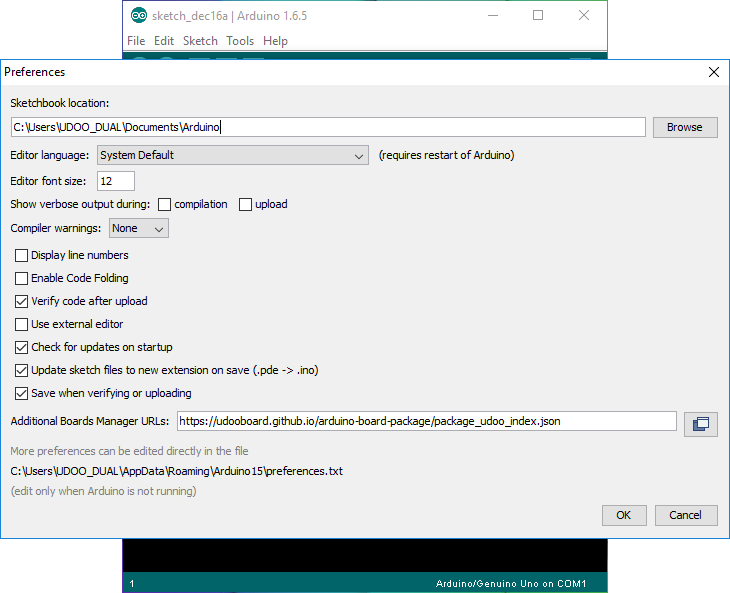 Go to Tools -> Boards and open the Board Manager.

Wait few seconds 'till the end of the "index download" then look for UDOO QUAD/DUAL (Arduino Due) by UDOO Team. Click on it and install the latest version.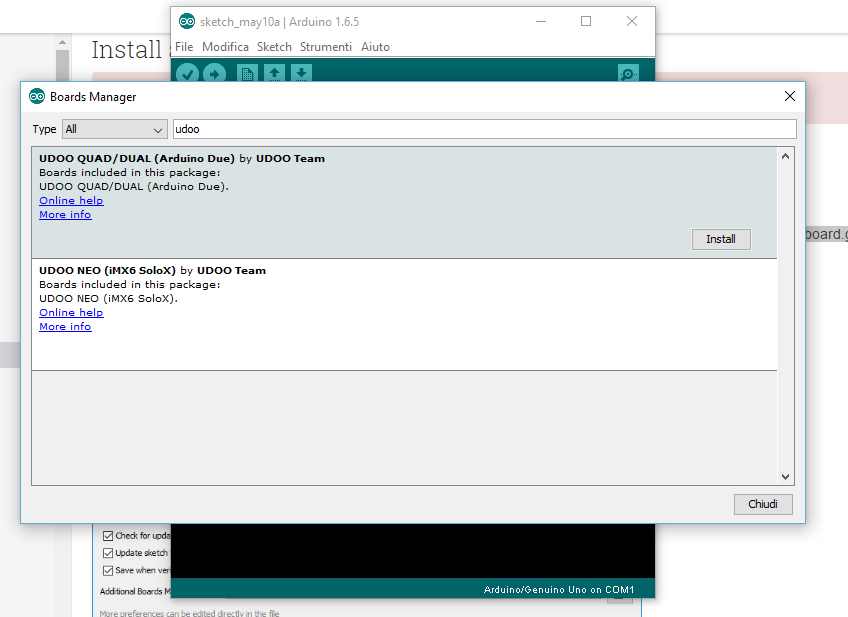 If you use the older 1.6.5 Arduino IDE version you need to install also the Arduino SAM Boards (32-bit ARM Cortex-M3) by Arduino package. If you use a newer Arduino IDE version this package isn't needed.

Now in Tools -> Boards you should see the UDOO QUAD/DUAL (Arduino Due), if so Click on it.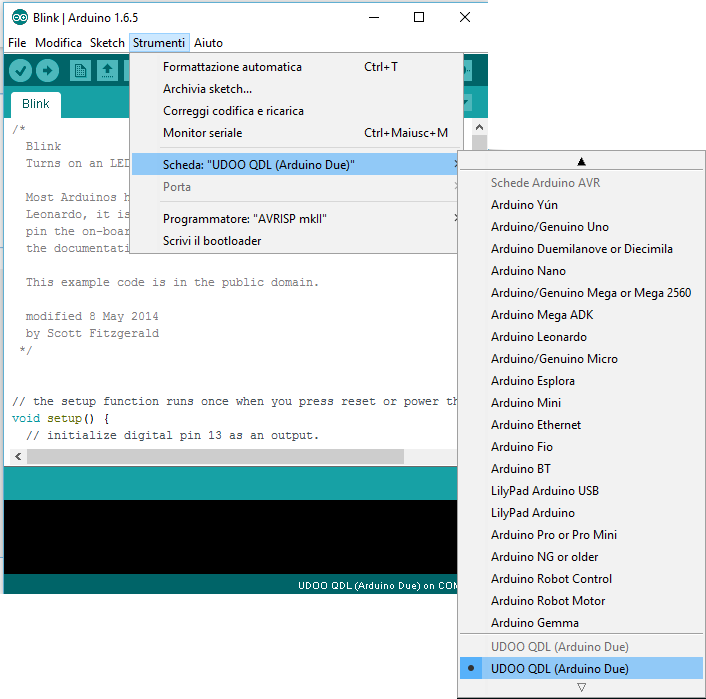 Select the right Tools -> Port of the UDOO QUAD/DUAL Arduino Due

Done, now you're ready to use your UDOO QUAD/DUAL with the Arduino IDE installed on your Computer.
N.B: in order to get it working on Linux 64 bit you need compatibility packages:

$ sudo apt-get -y install lib32z1 lib32ncurses5 lib32bz2-1.0


This page was last updated on Monday, March 21, 2022 at 5:19 AM.