Introduction
UDOO BLU
UDOO BLU is a natural wireless I/O extension for IoT projects. This module features:
Bluetooth Low Energy device
ZigBee and 6LoWPAN;
3 user configurable LEDs (Red, Green, Yellow);
8 digital GPIOs, 6 available ADCs!
2 user Buttons
Powered via button cell!
It has snap-in connectors to allow a cascade configuration with all the UDOO BRICKS!
Download the UDOO BLU datasheet here.
---
Heads up! In order to prevent damages to your board, remember to:
Never provide more than 3.3V in input to the GPIOs
Never keep the board in touch with metal objects or surfaces while it is powered up
---

Technical specifications
---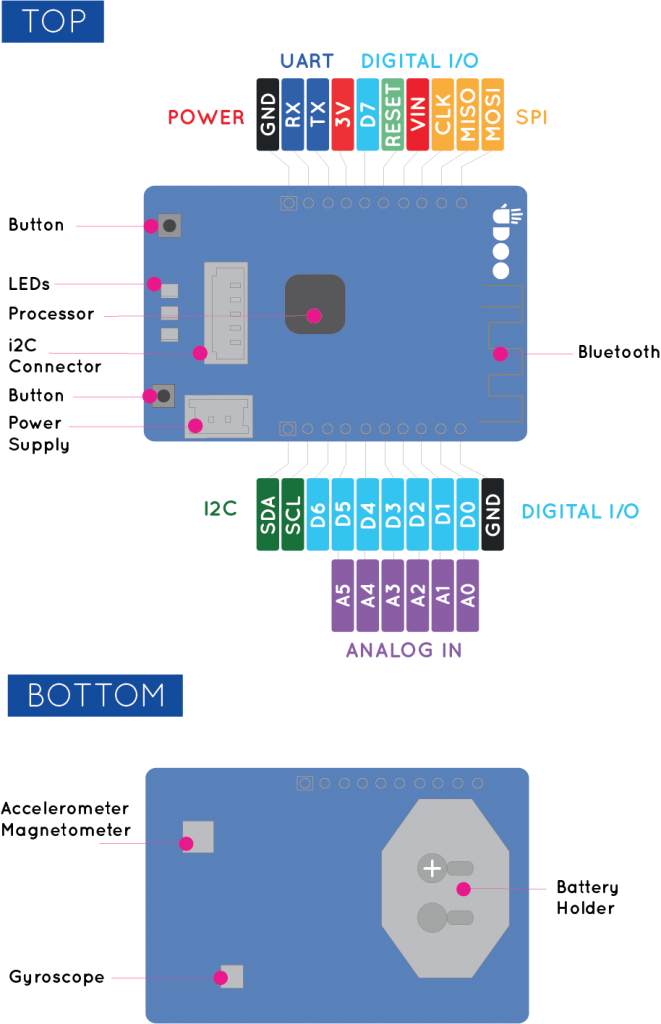 Texas Instruments CC2650 ARM Cortex M3
Networking

Bluetooth Low Energy (BLE) v4.1
6LoWPAN

Integrated sensors

FX0S8700CQ Acceleromter+Magnetometer
FXAS21002C Gyroscope+Temperature
1x Sensors Snap-In I2C connector for UDOO Bricks

3x User Configurable LEDs (Red, Yellow, Green)
Dimensions: 45mm x35mm (1.77″ x 1.37″)
Digital I/O Pins: 8x Digital GPIOs
Analog Input Pins: 6x Available ADCs
2x Buttons
Other Interfaces:

1x I2C
1x SPI
1x UART Serial

Power Supply:

Battery Holder (button-cell) CR2032 - 3V
External power supply - min 3.3V - max 5.5V
---
Community
Forums
The official UDOO forums can be found at www.udoo.org/forum
The forum search facility has been tweaked to allow more general searching. Please do a search before making a post as the issue may already have been raised and answered.
IRC channel
There is an (unofficial) UDOO discussion channel on IRC. Using the IRC client of your choice, use server information: irc.freenode.net. Room name is #udoo.
Social networks
This page was last updated on Monday, September 18, 2017 at 10:47 AM.