Hi UDOOers!
Today is a great day because we're releasing Android Kitkat 4.4.2. for UDOO! Aren't you excited? We are. But let's go straight to the point, because Android Kitkat 4.4.2. is coming with a whole bunch of news!
First point: better performances.
Second point: in the download file you'll find also two new open-source apps: the hyper-comfortable ADBWireless, that will free you from the need of wires during the development, and Simple Explorer , the new file manager through which you can manage all the files, install apps through usb keys , handle root permissions and so on.
Third point: we fixed some bugs related to the options of the External Otg.
Fourth point: through BLE-USB dongle finally Bluetooth Low Energy works. This means UDOO can become a gateway for BLE devices! For example, if you are a UDOOer since the beginning, since our launch on Kickstarter, the Bluetooth dongle we sent you as a stretch goal works also for BLE.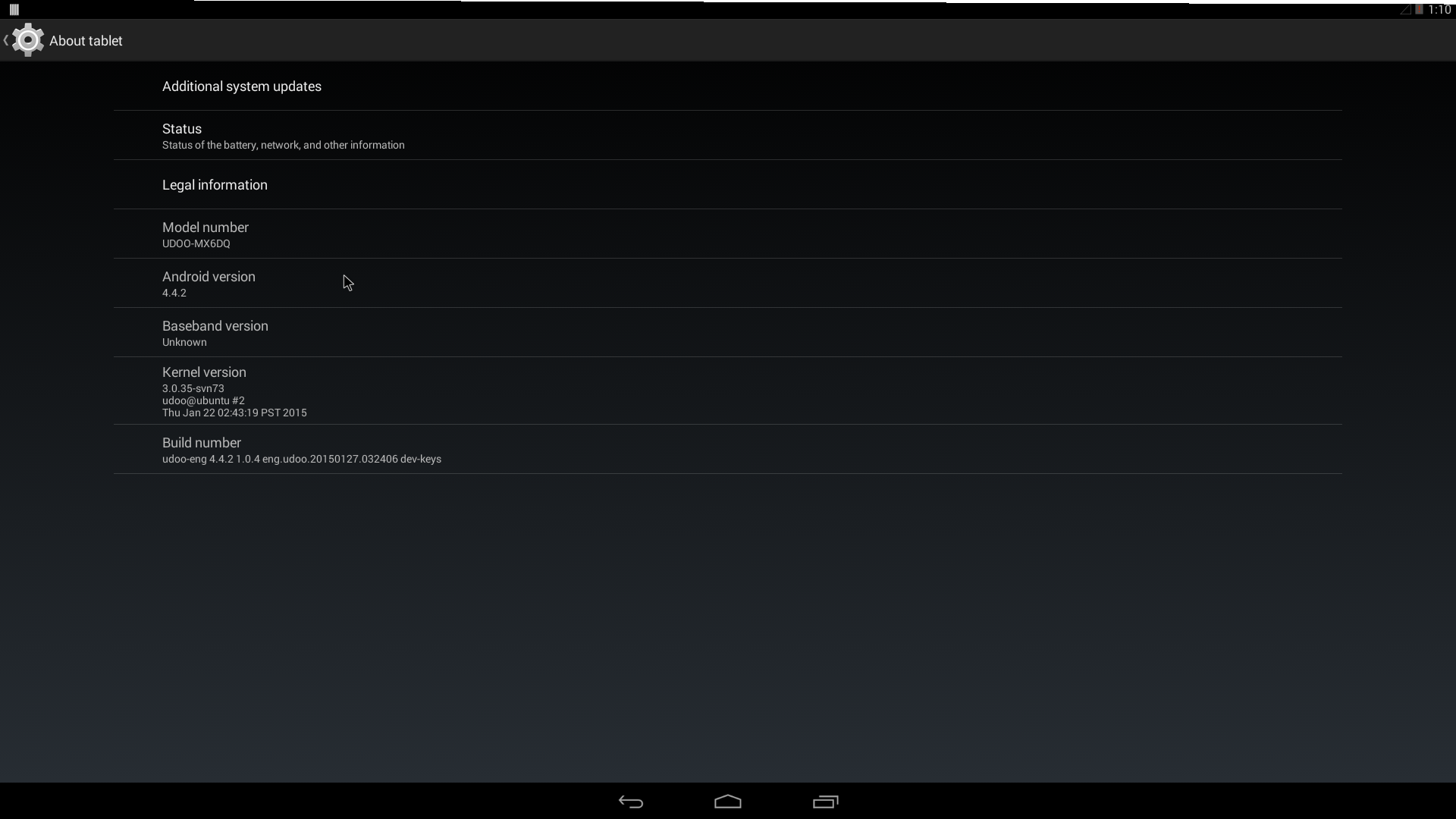 But we would like to spend a few more words about Android Kitkat 4.4.2.
This is the first version guys. We're currently working on that, because we love Android and we want your Android experience with UDOO to be amazing. But we need your feedbacks in the forum guys! Other great improvements will be released in the next months. Take this statement seriously: there are some rabbits in the hat and we are going to show you them very soon, so STAY TUNED, hot stuff's arriving!
P.S.: when you plug an external usb drive you'll find it mounted here:
/mnt/media_rw/udisk
Oh, and, we know you're looking for Gapps so, just to speed your search, download this and it will be fine.
You can find the images below or in our Downloads section where you can find also the Android sources.
UDOO DUAL
Mirror EU: udoo_dual_android_v4.4.2-1.0.zip
SourceForge: udoo_dual_android_v4.4.2-1.0.zip
Torrent: udoo_dual_android_v4.4.2-1.0.zip.torrent
SHA-1: a40424cfdc108861b304a5c450b2ef71da43c7a8
Release Date: 2015-01-28
Release Version: 4.4.2-1.0
UDOO QUAD
Mirror EU: udoo_quad_android_v4.4.2-1.0.zip
SourceForge: udoo_quad_android_v4.4.2-1.0.zip
Torrent: udoo_quad_android_v4.4.2-1.0.zip.torrent
SHA-1: fe2ed3a4b157fd1b03ca9c8c1127391341eb98e0
Release Date: 2015-01-28
Release Version: 4.4.2-1.0
Cheers Android-ers,
you're in good company 🙂