Hi UDOOers,
while our heroes Luca and Michelangelo keep the UDOO flag flying at Droidcon Turin 2015, with coverage on national Italian blogs, mainstream journals and newscast you can try to turn your Friday into something special taking part in this contest on twitter.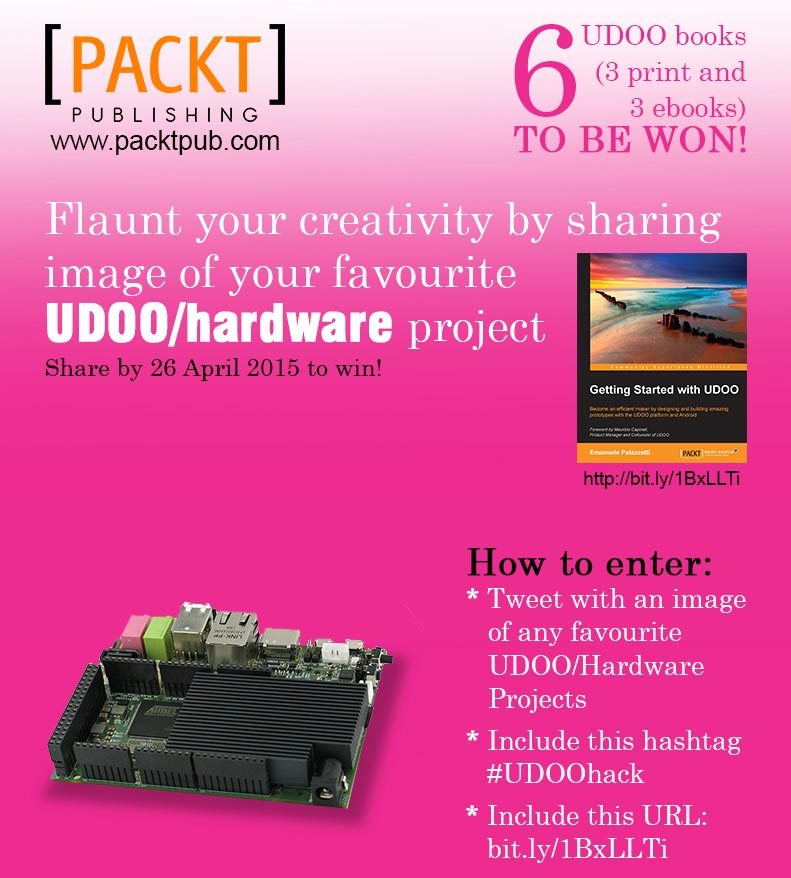 The contest is about this book, Getting Started with UDOO, by Emanuele Palazzetti, manager of Google Developer Group Perugia. It's a fabulous book, which covers your first start with an Android-based UDOO project from A to Z. Last year he led also a talk about tinkering with UDOO in Android at Droidcon Turin, called "Release the Kraken! UDOO brings your Android where no other smartphone can go"; if you missed it, don't worry, here it is:



But let's coming back to the point.

RULES OF THE CONTEST

Rules of this contest are very simple:
take a picture of a project you realized with UDOO
share it on Twitter with the hashtag #UDOOHack
and quote the following url: bit.ly/1BxLLTi

The contest will start tomorrow and will last till April 26th.

Then there will be a raffle between the participants and 6 books – 3 digital copies, 3 physical copies – will be sent to the lucky winners.

As you read it's really simple. So simple you have to jump on board – just don't take it literally 🙂 !
Cheers! And may the luckiest UDOOers win!