Ciao guys! We just came back from EW2020, and we want to stop and take a journey with you through the fantastic experience it was. Yup, this article is totally an Embedded World 2020 Recap.
So, what did you show there?
First, let's address the elephant in the room. Yes, the current situation dimmed the attendance at the event, even so, there were plenty of people there, ready to explore new products and ideas.
Speaking of, we presented two new products at the event, the UDOO BOLT GEAR, and the UDOO VISION AI KIT. Check the articles to know more about the products. Here we'll only mention the gist.
The UDOO BOLT GEAR is designed to be a home-entertainment system / smart-home enabler/gaming PC / do-it-all mini-computer toolkit. The kit contains a UDOO BOLT V8 (or V3, depending on the model purchased), a Metal Case, Wi-FI and BT modules, Power Supply, an Instruction Manual, and both the EU and US cables for UDOO BOLT.
The UDOO VISION AI KIT includes the upcoming UDOO VISION, a USB Full HD camera, and a power supply. UDOO VISION is a super UDOO X86 built upon a Pico-ITX pocket-size form factor, it comes in two versions – a premium version mounting an Intel® Atom® x7-E3950 Quad-Core, and a basic version, mounting an Intel® Atom® X5-E3940 Quad Core.
Both were presented there and were well received, so much that people kept asking where they could buy them. They're coming soon, no worries. We'll give you more information soon.
Where there cute Demos?
We spent three days interacting with both our audience and new people that never heard of UDOO. We goofed around UDOO VISION AI KIT's Demo, discussed life contemplating UDOO BOLT GEAR's Demo, and challenged you guys to an e-duel with our Bartop Arcade Cabinet. The results of the said challenge will forever be undisclosed.
Speaking of our demos. At our booth, we hosted a grand total of 4demos
UDOO BOLT GEAR's Demo was all about testing the power of the UDOO BOLT with an impressing 3D filter built using ***copy from previous articles. Plus, a Kinect. Click here to learn more.
UDOO VISION AI KIT's Demo was all about fun: a camera capable of recognizing gender, age, emotion, and action of people passing through. The challenge was to do something it couldn't identify. Learn more here.
The Bartop Arcade Cabinet is an old friend to the UDOO community, but! Plot twist. This time we used the UDOO BOLT to power it. New challenges awaited all visiting our stand. Want to have one of your own? Click here to learn how.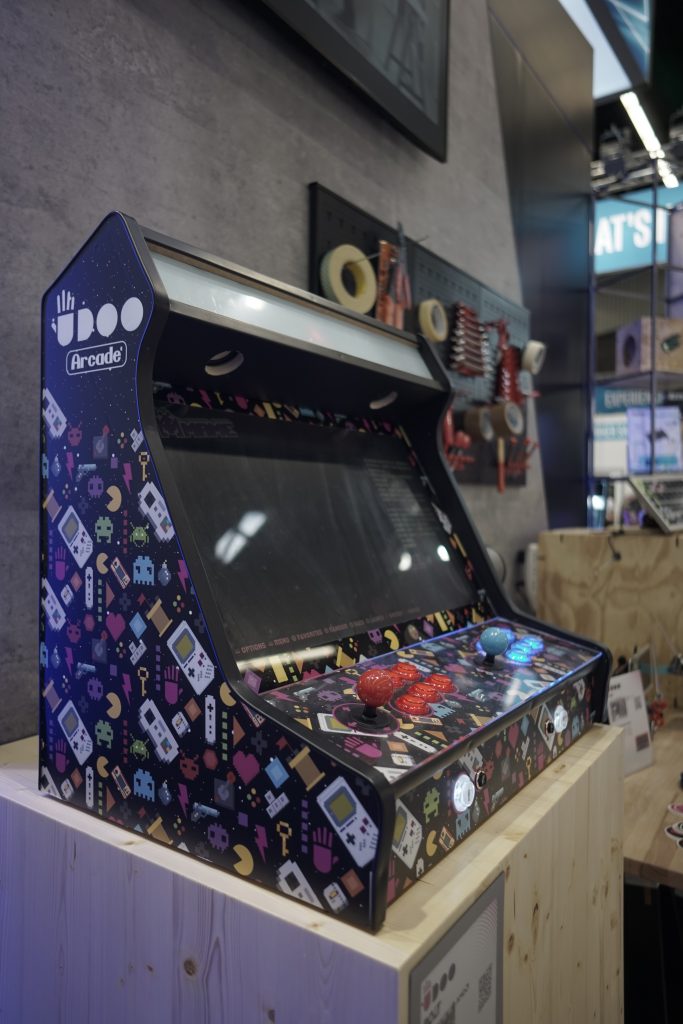 We're Italian. We can't leave without coffee. Period. So we had to bring a coffee machine. We disguised it as a Coffee machine counter demo. Neat uh? With it, you could count the coffees the device made, and the level of water in it, making sure it's always in tip-top shape. This was made to introduce the lucky few at the Embedded World to a new…thing. We'll announce it soon.
TL;DR aka Embedded World 2020 Recap in 20 seconds or less: We had loads of fun, and now we're recharged and ready to take on the new projects and bring them to you as quickly as possible.
And that's all for today, folks.
Stuff